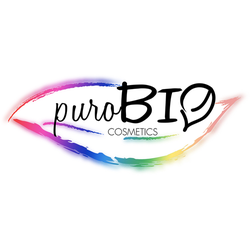 Buona sera ragazze! Come da risultato del sondaggio su Instagram, stasera vi parlo di PuroBio e dei prodotti di questa azienda che ho acquistato nel corso del tempo :) Non so voi, ma io la adoro!
Good evening girls! As a result of the survey on Instagram, tonight I talk about PuroBio and the products of this company I bought over time :) I do not know you, but I love it!
PuroBio è un'azienda Italiana della provincia di Bari, specializzata nel campo del make up bio,  Vegan OK e Nickel tested. La ricerca avanzata fa si che si abbiano prodotti di altissima qualità, privi di sostanze che potrebbero portare a fastidiose allergie (addirittura il glutine!) ma con prestazioni di alto livello, come prodotti non bio top di gamma. Questa conoscenza degli ingredienti e l'amore verso il make up, ha fatto crescere l'azienda in modo esponenziale negli ultimi anni, mettendo in campo prodotti innovativi. Personalmente non è da molto che utilizzo prodotti di questa azienda, ma praticamente ho solo quella nella mia trousse :) Stasera vi faccio vedere e vi parlo velocemente del mio piccolo tesoretto.
PuroBio is an Italian company in the province of Bari, specialized in bio make up, Vegan OK and Nickel tested. Advanced research means that you have the highest quality products with no substances that could lead to annoying allergies (even gluten!) But with high performance, as top-not-high-range products. This knowledge of ingredients and the love for make-up has increased the company exponentially in recent years, putting in place innovative products. Personally, I do not have much to use products of this company, but I just have that in my trousse :) Tonight I'll see you and talk to you about my little treasure.
BASE MAKE UP
Per la base mi affido alla Sublime BB Cream (questo perchè sono avversa di mio a qualsiasi fondotinta). L'ho acquistato nelle colorazioni 02 e 03 in quanto dall'inverno all'estate cambio parecchio di colore. E' una formulazione leggera che si lascia stendere bene anche solo con le mani, tranquillamente miscelabile tra i vari colori in modo da ottenere il colore perfetto.
Subito dopo applico il Correttore 32 di colore arancio per nascondere le mie bellissime occhiaie da panda :) anche questo, nonostante sia in formato matitone, risulta molto morbido e malleabile, senza lasciare stacchi improvvisi sulla pelle.
Dopo aver passato la cipria (non di PuroBio ma è nella wishlist), faccio un leggero contouring con la Resplendent Terra Compatta nel colore 01 e il Make Me Blush sempre nel colore 01.
BASE MAKE UP
For the base I rely on the Sublime BB Cream (this is because I'm against my foundation). I bought it in the colorings 02 and 03 since in the winter to the summer change a lot of color. It is a lightweight formulation that is easy to apply even with your hands, easily mixable between different colors to get the perfect color.
Soon after I apply the Orange Corrector 32 to hide my beautiful panda circles :) this, despite being in the matitone shape, is very soft and malleable, without leaving sudden nail on the skin.
After passing the powder (not PuroBio but in the wishlist), I make a slight contouring with the Complex Resplendent Earth in color 01 and the Make Me Blush always in color 01.
OCCHI E LABBRA
Per quanto riguarda gli occhi, ho da poco acquistato 3 cialde ombretto, in particolare la 05 sul tono del rame, la 06 sul viola intenso e la 15, un duochrome a dir poco spettacolare sempre sul tono del viola. La consistenza di questi ombretti, come gli illuminanti che ho avuto modo di provare, è burrosa al contatto. Questo fa si che il prodotto venga lavorato molto bene e con possibilità di essere sfumato quasi all'infinito, sul pennello restano pochissimi residui di prodotto quindi lo spreco è pari a zero (cosa che invece capita spesso con prodotti molto polverosi). Completo il trucco solitamente con una linea di matita nera al posto dell'eyeliner liquido e questa ricevuta in omaggio è nuovissima.
Per le labbra ero in trepidante attesa delle tinte matte, che sono uscite in concomitanza dell'ultimo SANA tenuto a Bologna a Settembre 2017. Appena le ho viste veramente volevo acquistarle tutte, le impressioni e i primi swatch erano strepitosi. Mi sono fiondata su un tono portabilissimo da tutte, con tutte le carnagioni e colori di capelli, la 03, un malva freddo che è talmente bello da commuovermi. ne sto già addocchiando un altro paio di scure, ore che è inverno adoro osare un pochino. La durata è pazzesca: dopo 9 ore di lavoro e un pranzo fuori, la tinta era ancora li, certo da ritoccare, ma abbastanza integra da doverla togliere con l'acqua micellare.
EYES AND LIPS
As for eyes, I have recently bought 3 eyeshadows, especially 05 on copper tone, 06 on intense purple and 15, a duochrome to say the least spectacular always on the tone of purple. The consistency of these eye shadows, like the illuminants I've been able to try, is buttery at contact. This means that the product is worked very well and with the possibility of being blurred almost infinitely, there are very few product residues on the brush, so the waste is zero (which often happens with very dusty products).
For my lips I was tremendously awaiting the lip tints that came out in conjunction with the latest SANA held in Bologna in September 2017. As soon as I saw them I really wanted to buy them all, the impressions and the first swatches were awesome. I've slimmed on a loudest tone from everyone, with all the complexion and hair colors, 03, a cold malva that is so nice to be moved. I'm already bothering another pair of dark now that is winter I dare to dare a bit. The duration is crazy: after 9 hours of work and a lunch out, the lip tint was still there, sure to be retouched, but it is pretty good that it needs to be removed with micellar water.
- Marta