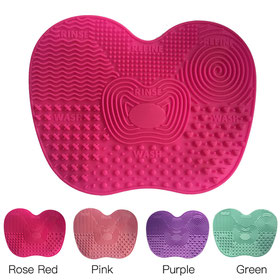 Buon giorno fanciulle! Oggi piccolo OT, voglio parlarvi del tappetino lava pennelli acquistato su Aliexpress e arrivatomi la settimana scorsa, un ottimo aiuto per chi è un po' pigra nella pulizia dei pennelli per make up. Vi racconto come mi sono trovata :)
Good day girls! Today small OT, I want to talk about the clean brush pad bought on Aliexpress and arrived last week, a great help for those who are a little lazy in the makeup brush cleaners. I tell you how I found it :)
Uno dei tanti dispositivi per la pulizia dei pennelli, oltre al famoso Eggbrush, è proprio il tappetino. Questo che ho acquistato su Aliexpress è in morbido silicone, provvisto di 5 ventose per essere 'ancorato' al lavandino mentre si lavano i pennelli. Misura all'incirca 15x12 cmed è dispnibile in 4 colori: fuxia, rosa, viola e verde acqua. E' suddiviso in ben 7 zone di pulizia: nella parte inferiore si trovano delle texture abbastanza grosse per la vera e propria pulizia (WASH); al centro e in alto a sinistra si trova la parte di risciaquo con una texture a linee per poter togliere il sapone o il detergente utilizzato (RINSE); in alto a destra e in alto al centro invece ci sono le texture meno invasive, quelle destinate alla finitura del lavaggio (REFINE). Devo dire che mi sono trovata molto bene, ho lavato i miei 12 pennelli da trucco in meno di 5 minuti in modo profondo e veloce, anche quelli più grandi come il pennello da cipria non ha dato grossi problemi visto le dimensioni comunque ridotte del prodotto. Ho utilizzato per la pulizia il bagnoschiuma al mirtillo di HAND - Il saponino, quindi non particolari detergenti adatti alla pulizia del pennello. Il prodotto mi è costato solo 1,40 € e devo dire che è un ottimo acquisto. Vi lascio il link diretto per poterlo acquistare :)
Voi utilizzate dispositivi per il lavaggio dei pennelli? Se si, fatemi sapere quali, sono curiosa di sapere come vi trovate. Un bacione!
One of the many brush cleaners, in addition to the famous Eggbrush, is just the mat. This thing I bought on Aliexpress is in soft silicone, with 5 suction cups to be 'anchored' at the sink while brushing. Approximately 15x12 cmed is dispensable in 4 colors: fuxia, pink, purple and green water. It is divided into seven cleansing areas: at the bottom there are quite large textiles for true cleaning (WASH); In the center and in the upper left is the rinsing part with a line texture in order to remove the used soap or detergent (RINSE); In the top right and top of the center there are less invasive textures, those for the finishing of the wash (REFINE). I have to say that I found myself very well, I have washed my 12 makeup brushes in less than 5 minutes deep and fast, even the larger ones like the powder brush did not cause big problems due to the reduced size of the product. I used to clean the HAND bubble bath-soap - The soap, so no special cleaners suitable for cleaning the brush. The product cost me only 1.40 € and I have to say it's a great buy. I leave you the direct link to buy it :)
Do you use brush scrubbers? If so, let me know what, I'm curious to know how they are. A big kiss!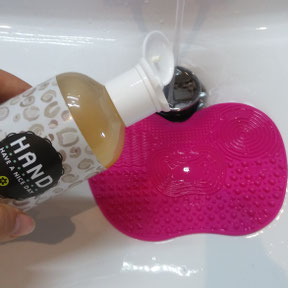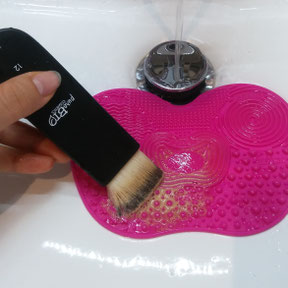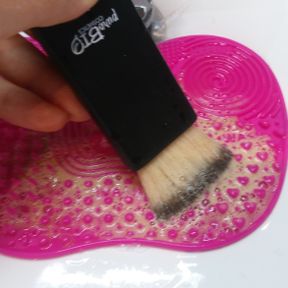 - Marta