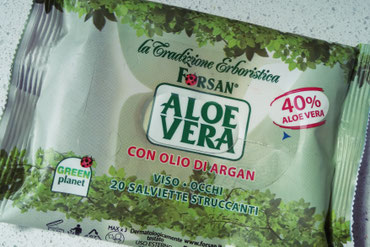 Buona domenica ragazze! Oggi sul blog vi parlo di queste salviette struccanti all'Aloe Vera e olio di Argan della ditta Forsan che trovate in vendita nei supermercati Lidl :) 
Good sunday girls! Today on the blog I am talking about these loose wipes at the Aoe Vera and Argan oil by Forsan that you find on sale in Lidl supermarkets :)
Forsan è una ditta Milanese del gruppo A&D, nel campo della cosmetica e dell'integrazione alimentare da oltre 25 anni. Nell'ultimo periodo, complice il loro principio di base e l'attenzione sempre maggiore dei consumatori, si è specializzata nella raccolta degli ingredienti principali con cui compone i propri prodotti nel completo rispetto dell'arte erboristica non solo Italiana, ma anche dei singoli Paesi di provenienza, in modo da contribuire alla realizzazione di un prodotto naturale e mantenendo l'etica di Green Planet. Alcuni dei prodotti delle loro linee sono in vendita da non molto all'interno della catena di supermercati Lidl, in particolare gli integratori alimentari, la line all'Aloe Vera e le creme cosmetiche. Il prezzo si aggira sui 2,00 € di 20 salviette e il PAO è di 3 mesi. Altra nota positiva, il cotone delle salviette è 100% biodegradabile e può essere gettato direttamente nel WC.
Forsan is a company from Milan of the A & D group in the field of cosmetics and food integration for over 25 years. In the last period, in conjunction with their basic principle and the increasing attention of consumers, has specialized in the collection of the main ingredients with which it complements its products in full respect of herbalist art not only Italian but also individual countries From source to contribute to the realization of a natural product and to maintain the ethics of Green Planet. Some of the products of their lines are sold by not much within the Lidl supermarket chain, particularly dietary supplements, the line to the Aeon Vera and cosmetic creams. The price is around 2.00 € for 20 wipes and PAO is 3 months. Another positive note, the wiping cotton is 100% biodegradable and can be thrown directly into the toilet.
Queste salviette sono ottime per chi, come me, è abbastanza pigra per struccarsi a fondo. Sono ben imbevute e tolgono quasi completamente il make up alla prima passata, salvo per il mascara con cui bisogna avere un po'più di pazienza. Non irritano gli occhi e sono molto delicate, la profumazione è tipica dell'Aloe che è il principale ingrediente. Sono molto soddisfatta di queste salviette e sicuramente le acquisterò nuovamente, nonostante il prezzo sono state all'altezza di altre salviette provate ma con costi più elevati.
These wipes are great for those who, like me, are lazy enough to rub them down. They are soaked and almost completely remove make up at the first, except for the mascara with which you have to have a little patience. They do not irritate the eyes and are very delicate, the scent is typical of Aloe which is the main ingredient. I am very happy with these wipes and will surely buy them again, despite the price they have been up to other tried and true wipes.
MARTA