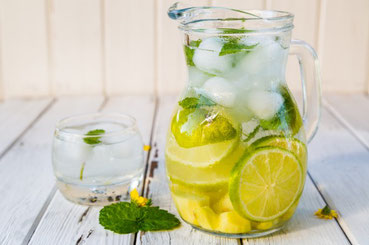 Le acque detox o detox water sono acque aromatizzate con frutta, verdura, erbe e spezie, utili per depurare l'organismo. Buone, rinfrescanti, colorate, salutari, sono semplicissime da preparare a casa.
The water detox or detox water are flavored waters with fruit, vegetables, herbs and spices, which are useful to purify the body. Good, refreshing, colorful, healthy, they are very simple to prepare at home. 
Le acque detox, o detox water, si preparano lasciando in infusione la frutta e la verdura in acqua fredda. La frutta e la verdura vanno lavate, tagliate in modo grossolano e sistemate in una brocca d'acqua, dove andranno lasciate da un minimo di cinque ore a un massimo di 24 ore; la brocca andrà poi collocata in frigorifero e coperta con un piatto o con della pellicola alimentare.

ACQUA DETOX ALLA BARBABIETOLA
L'acqua aromatizzata alla barbabietola si prepara con 1 barbabietola rossa, 1 manciata di foglie tritate di menta piperita, il succo di mezzo lime o limone e da 1 a 2 litri d'acqua. Dovrete affettare la barbabietola e unirla ad acqua, menta e succo di limone in un barattolo capiente. Conservate da 12 a 24 ore in frigorifero prima di servire. La bevanda si mantiene in frigo per 4 giorni. La barbabietola e il succo di limone sono molto indicati per la depurazione del sangue.
ACQUA DETOX DRENANTE
Per stimolare il metabolismo e perdere più velocemente peso durante le diete dimagranti, aggiungete a un litro e mezzo d'acqua quattro fette di ananas tagliate a dadini, quattro fragole e una manciata di more. Bevete quest'acqua detox nel corso della giornata se volete stimolare la diuresi e combattere cellulite e ritenzione idrica.

ACQUA DETOX MELA E ARANCIA
Per questa acqua aromatizzata detox vi serviranno 2 o 3 arance tagliate a tocchetti, 3 mele da affettare e da 1 a 2 litri d'acqua. Usate frutta bio per non doverla sbucciare. Lasciate in infusione 24 ore in frigorifero prima di servire. Le mele e le arance contengono pectina, considerata utile per aiutare l'organismo a liberarsi dai metalli pesanti.
ACQUA DETOX RINFRESCANTE
Per preparare un'acqua disintossicante rinfrescante aggiungete a un litro e mezzo d'acqua un cetriolo tagliato a fette, un limone tagliato a spicchi e dieci foglie di menta fresca. Oltre a rinfrescare, quest'acqua detox favorisce il buon funzionamento dell'intestino e stimola la diuresi.

ACQUA DETOX MORE E MENTA
L'acqua aromatizzata alle more è ricca di antiossidanti e aiuta l'organismo a depurarsi e a ricaricarsi di vitamine. L'ideale è avere a disposizione delle more appena raccolte. Per 1 litro d'acqua potrete utilizzare una manciata di more e una decina di foglioline di menta. Potrete tritare qualche fogliolina di menta e suddividere a metà qualche mora per aromatizzare meglio l'acqua.
The water detox, detox or water, are prepared leaving to infuse fruits and vegetables in cold water. The fruits and vegetables must be washed, chopped coarsely and place in a jar of water, which will leave from a minimum of five hours at a maximum of 24 hours; the pitcher will then be placed in the refrigerator, covered with a plate or plastic wrap.
BEET WATER DETOX
The water flavored with beetroot is prepared with 1 beetroot, 1 handful of chopped leaves of peppermint, the juice of half a lime or lemon and 1 to 2 liters of water. You have to slice the beetroot and add it to water, mint and lemon juice in a large jar. Preserved from 12 to 24 hours in the refrigerator before serving. The drink is kept in the refrigerator for 4 days. The beet and lemon juice are very suitable for the purification of the blood.
DRAINAGE WATER DETOX
To stimulate your metabolism and lose weight faster during slimming diets, add to a liter and a half of water four slices of pineapple cut into cubes, four strawberries and a handful of berries. Detox drink this water throughout the day if you want to stimulate diuresis and fight cellulite and water retention.
APPLE AND ORANGE WATER DETOX
For flavored water detox will serve 2 or 3 oranges cut into pieces, 3 apples to be sliced and 1 to 2 liters of water. Use bio fruit for not having to peel. Infused for 24 hours in the refrigerator before serving. Apples and oranges contain pectin, which is considered useful in helping the body to get rid of heavy metals.
REFRESHING WATER DETOX
To prepare a water purifying refreshing add to a liter and a half of water a cucumber cut into slices, cut a lemon into wedges and ten fresh mint leaves. In addition to refurbish, this water detox promotes good bowel function and stimulates diuresis.
BLACKBERRY AND MINT WATER DETOX
 The flavored water blackberry is rich in antioxidants and helps the body to purify and to recharge the vitamins. The ideal is to have the freshly picked blackberries. For 1 liter of water you can use a handful of blackberries and a dozen mint leaves. You can chop some mint leaves and divide in half some blackberry flavoring water better.
MARTA