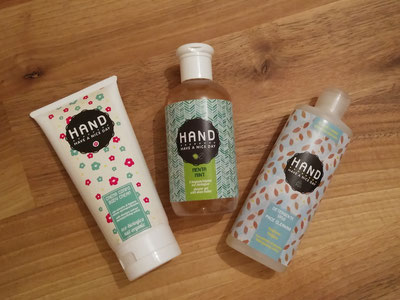 Buona sera ragazze, finalmente un po' di tempo per me! Stasera voglio parlarvi di 3 prodotti che l'azienda HAND - Il saponino mi ha inviato qualche mese fa e che nell'ultimo periodo ho avuto modo di cominciare e testare. Parlerò di:
Bagnoschiuma alla Menta con burro di Karitè
Crema corpo alla Ratania
Detergente viso al Tè Verde e Avena con estratti di Ginseng
Curiose di saperne di più?
Good evening girls, finally some time for me! Tonight I want to tell you about 3 products that the company HAND - The saponine sent me a few months ago and that in the last period I had to start and test. I will talk about:
Moisturized Moisturizing Moisturizer with Shea Butter
Body Cream at Ratania
Facial Cleanser with Green Tea and Oatmeal with Ginseng Extracts
Curios to know more?
HAND (acronimo di Have A Nice Day) è un'azienda Torinese nata per la passione del fondatore per la cosmesi bio, in particolar modo dall'arte della saponificazione. Unendo questa passione alla ricerca di ingredienti naturali, studiati ad hoc per la pelle, nasce un brand fresco, giovane e che fa sorridere già dal suo nome. In fin dei conti abbiamo tutti bisogno di cominciare la giornata con un sorriso e l'obbiettivo di Luigi è proprio questo.
Vi ho già parlato di questo brand in un altro post, presentandovi i prodotti di cui sono stata gentilmente omaggiata e di cui, purtroppo, solo in questo periodo ho avuto modo di testare almeno in parte. Comincio subito a presentarvi i prodotti :)
HAND (Acronym: Have A Nice Day) is a Torinese company born to the passion of the founder of organic cosmetics, in particular by the art of saponification. Combining this passion for the search for natural ingredients, studied ad hoc for the skin, a fresh, young brand is born that makes its name smile. After all we all need to start the day with a smile and Luigi's goal is just that.
I have already talked about this brand in another post, presenting the products I was kindly paid for and of which, unfortunately, only in this period I had to test at least in part. Let me start by presenting you the products :)
Il primo prodotto che ho testato e che sto amando alla follia è il Bagnoschiuma alla Menta con estratti di Burro di Karitè. Si presenta in formato da 250 ml per un costo di 7,50 €, il colore è giallognolo e la consistenza abbastanza liquida. E' un super concentrato in tutti i sensi: ne basta poco sulla spugna per creare una morbida schiuma, il profumo di menta è inebriante (AMO la menta) e la freschezza che lascia sulla pelle non ha eguali, soprattutto in queste giornate afose. Lava delicatamente senza lasciare la pelle troppo secca, idratandola al punto giusto. Il profumo di menta che rimane sulla pelle è presente ma non invasivo e dura parecchie ore. Ho anche la saponetta alla menta, sicuramente il bagnoschiuma lo ricomprerò.
The first product I tested and I am fond of madness is the Bagnoschiuma alla Menta with extracts of Shea Butter. It comes in 250 ml format for a cost of € 7.50, the color is yellowish and the consistency is fairly liquid. It is super concentrate in all directions: just a little on the sponge to create a soft foam, the smell of mint is inebriant (I love the mint) and the freshness it leaves on the skin does not equal, especially in these fussy days. Wash it gently without leaving your skin too dry, moisturizing it to the right spot. The smell of mint that remains on the skin is present but not invasive and lasts for several hours. I also have the mint soap, surely the bubble bath will replenish it.
Da poco ho terminato la mia crema corpo al Peperoncino di Biofficina Toscana e ho deciso di cominciare questa alla Ratania di HAND. La Ratania in cosmesi è utilizzata per le potenti proprietà elasticizzanti e tonificanti che esercita sulla pelle. Insieme al Burro di Karitè, all'estratto di Mirto e di Mandorla Dolce, questa crema corpo è ideale subito dopo la doccia, per idratare la pelle in profondità e, diciamocelo, con il profumo che ha aiuta anche a togliere lo stress della giornata appena trascorsa. Si presenta in formato da 250 ml per 12,00 € di spesa. Il colore è bianco e la crema è parecchio densa rispetto ad altre che ho provato: questo fa si che ne basta veramente poca per riuscire a fare tutto il corpo, cosa che mi piace tantissimo. E' molto valida oltre che una vera e propria coccola per corpo e mente.
I just did finish my Chili body cream by Biofficina Toscana and I decided to start this of Ratania. Cosmetic Ratania is used for the powerful exfoliating and toning properties that it exerts on the skin. Along with Shea Butter, Myrth and Sweet Almond extract, this body cream is ideal immediately after showering to moisturize the skin deeply and, let's say, with the scent that also helps to relieve stress of the day just passed. It comes in 250 ml format for € 12.00. The color is white and the cream is a bit dense compared to the other ones I've tried: this does just that little to do to do the whole body, which I like very much. It is very valuable as well as a real cuddle for body and mind.
Ultimo, ma non per importanza, è il detergente viso al Te Verde e Avena con estratto di Ginseng. Per chi mi segue su Instagram, ho da poco finito il detergente di Forever Living e quindi sono partita in quarta con questo. Mi ricorda la consistenza e il metodo di pulizia del detergente di Korres di cui vi avevo parlato mesi fa. Si presenta anche questo in formato da 250 ml per un costo di 12,00 €. La consistenza è quella di un sapone liquido e anche la schiuma che produce lo ricorda molto. I principi del Te Verde e dell'Avena fanno si che sia delicato e adatto a tutti i tipi di pelli, anche quelle più sensibili, mentre il Ginseng ha l'effetto di 'svegliare' la pelle, soprattutto se usato alla mattina. Non è un prodotto assolutamente da scartare ma sinceramente non so se lo ricomprerò.
Last but not least, it is the facial cleanser with Green Tea and Oats with Ginseng extract. For those who follow me on Instagram, I have just finished the detergent of Forever Living and so I went in fourth with this. It reminds me of the consistency and method of cleaning the Korres detergent that I talked to you months ago. This also comes in 250 ml format for a cost of 12.00 €. The consistency is that of a liquid soap and even the foam that produces it reminds him a lot. The principles of Green Tea and Avene make it delicate and suitable for all types of skins, even the most sensitive ones, while ginseng has the effect of 'waking up' the skin, especially if used in the morning. It is not a product to be discarded, but I do not know if I will buy it again.
Stay tuned, ho ancora tanti prodotti di questa azienda da testare, non perdetevi i prossimi appuntamenti!
Vi lascio il sito aziendale dove potete trovare un sacco di informazioni su HAND, la sua filosofia e i suoi prodotti. Un bacione!
Stay tuned, I still have many products from this company to be tested, do not miss the upcoming appointments!
I leave you the company site where you can find a lot of information on HAND, its philosophy and its products. A big kiss!
MARTA