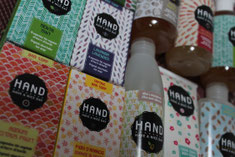 Buon giorno e buona domenica cari followers! Oggi vi voglio parlare della collaborazione con HAND - Il Saponino, azienda italiana che si occupa di prodotti per la cura del corpo con prodotti naturali.
Good morning, and good Sunday dear followers! Today I want to talk about the collaboration with HAND - Il Saponino, an Italian company that deals with products for body care with natural products.
Nella gallery qui sotto troverete tutti i prodotti che mi sono arrivati da questa fantastica azienda. In ordine vi parlerò di:
Shampoo ALOE e MANDORLE: è un nuovo prodotto di questa azienda, l'utilizzo delle mandorle serve per idratare a fondo i capelli secchi e sfibrati, mentre l'aloe idrata in profondità il cuoio capelluto e sfiamma eventuali pruriti o problemi di forfora.
Crema corpo alla RATANIA: la Ratania è una pianta dalle eccellenti proprietà elasticizzanti, ideale quindi per conferire alla pelle un aspetto più tonico, ricca anche di antiossidanti.
Detergente viso al THE VERDE, AVENA e GINSENG: un altro prodotto della nuova linea, questo detergente viso contiene ben tre ingredienti naturali molto importanti. Il The Verde è conosciuto per le sue eccellenti proprietà antiossidanti, l'Avena aiuta le pelli più sensibili a contrastare irritazioni, mentre il Ginseng da un aspetto tonico ed energico alla pelle del viso.
Bagno doccia e sapone alla MENTA: la Menta tonifica e rinfresca a fondo, purifica inoltre la pelle grassa dando grandi benefici a chi soffre di acne. Inoltre le inalazioni aiutano in caso di raffreddori o congestione delle vie aeree.
Bagno doccia e sapone al MELOGRANO: conosciuto per le proprietà antiossidanti, facilita la circolazione del sangue e riduce l'iperpigmentazione (macchie della pelle) dovute all'invecchiamento.
Bagno doccia al MIRTO: questa pianta viene molto usata per uso interno, per uso topico ha proprietà toniche e antisettiche, ideali per chi ha pelli sensibili e per detergenti intimi.
Sapone alla LAVANDA: la Lavanda è molto nota per le proprietà rilassanti in caso di stress, inoltre per uso esterno ha anche azioni detergente, antibatteriche e analgesiche. Aiuta a conciliare il sonno.
Sapone agli AGRUMI: in genere gli agrumi sono potenti antiossidanti per il concentrato di acido citrico, aiutano ad attivare le difese immunitarie e hanno proprietà antisettiche e antibatteriche.
Sapone al FICO: ricco di antiossidanti, è indicato per curare i foruncoli e infezioni da acne. Le sue proprietà emollienti lo rendono adatto anche all'uso sulle pelli dei bambini o quelle più sensibili
Sapone ai FIORI d'ARANCIO: i fiori d'arancio aiutano chi soffre di problemi di insonnia grazie alle proprietà aromaterapiche, inoltre sono indicati per problemi di infezioni della pelle.
In the gallery below you will find all the products that I received from this fantastic company. In order I'll talk about:
ALOE and ALMOND Shampoo: is a new product of this company, the use of almonds used to moisturize thoroughly dry and brittle hair, while aloe moisturizes the scalp and sfiamma any itching or dandruff problems.
Body cream RHATANY: the Rhatany is a plant with excellent elasticity properties, so ideal for giving the skin a more toned appearance, also rich in antioxidants.
Cleanser  THE GREEN, OATS and GINSENG: another product of the new line, this facial cleanser contains three very important natural ingredients. The Green tea is known for its excellent antioxidant properties, oats helps sensitive skin to counteract irritation, while the Ginseng from a toned and energetic to your skin.
Shower and soap MINT: the tones Mint refreshes and deeply, also purifies oily skin giving great benefits to those suffering from acne. Moreover, the inhalations help in case of colds or respiratory tract congestion.
Shower and soap POMEGRANATE: known for its anti-oxidant properties, facilitates blood circulation and reduces hyperpigmentation (skin discoloration) due to aging.
Bathroom shower MYRTLE: this plant is widely used for indoor use, for topical use has tonic properties and antiseptic, ideal for those with sensitive skin and cleansers.
Soap LAVENDER: Lavender is well known for the relaxing properties in case of stress, also for outdoor use also has detergent action, antibacterial and analgesic. It helps to facilitate sleep.
Soap CITRUS FRUITS: usually citrus fruits are powerful antioxidants concentrated citric acid, help activate the immune system and have antiseptic and antibacterial properties.
Soap FIG: rich in antioxidants, is indicated to treat pimples and acne infections. Its emollient properties make it suitable for use on the skin of children or the most sensitive
Soap to the ORANGE BLOSSOM: orange flowers help those suffering from sleeping problems thanks to aromatherapy properties, they are also indicated for infections of the skin problems.
MARTA