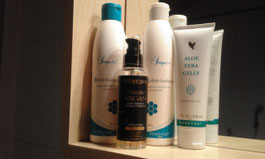 Piccola ma grande premessa: i miei capelli sono da sempre stati ribelli. Mossi, crespi e secchi, mi hanno fatta impazzire al punto di fare cambi drastici di acconciatura, passando da lunghissimi a cortissimi (e non risolvendo il problema).
Small but great premise: my hair has always been rebellious. Wavy, frizzy and dry, they made me crazy to the point of making drastic changes in hairstyle, going from long to very short (and not solving the problem).
Da quando mi sono affacciata sul mondo dei prodotti naturali, ne ho testati diversi a partire da quelli di fascia medio bassa comprati al supermercato. Dopo numerose ricerche e delusioni, sono a mostrarvi i 4 prodotti che utilizzo per la mia hair routine e che mi hanno aiutata tantissimo ad idratare e domare la mia chioma.
HYDRATE SHAMPOO & HYDRATE CONDITIONER
Questi shampoo e balsamo della linea Hydrate by Sonya di Forever Living Products sono stati la mia salvezza. Nel giro di pochi lavaggi i capelli risultano idratati in profondità e con loro anche il cuoio capelluto. La mia chioma si è definita e non è più stata il solito cespuglio. La consistenza sia dello shampoo che del balsamo è densa al punto da dover essere diluito in un po' d'acqua. I flaconi sono da 355 ml e, grazie alla piccola quantità necessaria, durano veramente un sacco.
ALOE VERA GELLY
Questo gel di Aloe di Forever Living Products(ben oltre l'84% ed è il primo ingrediente nell'INCI) mi ha aiutata a definire il mosso, dandone il volume al punto giusto. Lo utilizzo soprattutto in inverno in quanto aiuta ad asciugare più velocemente i capelli, proteggendoli dal calore del phon. E' anche ideale da utilizzare al posto di gel o schiume in quanto la tenuta è ottima e non lascia l'unto e appiccicoso tipico di questi prodotti.
LUXURY ARGAN
Da circa sei mesi uso l'olio di Argan di Vitalcare, soprattutto per le punte, dopo aver cambiato colore di capelli e subito una decolorazione. Parlandone con la mia parrucchiera, ho scoperto che molte persone che hanno i capelli mossi o ricci non utilizzano questo prodotto in quanto hanno paura che i capelli restino unti. Niente di più sbagliato! I capelli ricci, in confronto a quelli lisci, hanno più bisogno di nutrimento per potersi districare e per togliere il crespo. Altri tipi di olio ideali per i capelli sono anche quelli di lino e di cocco.
E quali sono i prodotti per la vostra hair care a cui non potete dire di no?
Since I looked out on the world of natural products, I have tested different from those of medium low bought at the supermarket. After much research and disappointments, I have to show you four products that I use for my hair routine and that helped me a lot to moisturize and tame my hair.
HYDRATE HYDRATE SHAMPOO & CONDITIONER
These shampoos and conditioners of the Hydrate line by Sonya of Forever Living Products have been my salvation. Within a few hair washes hair are hydrated in depth and with them also the scalp. My hair has been defined and is no longer the usual bush. The texture of the shampoo is that the balm is dense to the point of having to be diluted in a bit 'of water. The bottles are 355 ml and, thanks to the small amount required, they last a lot really.
ALOE VERA GELLY
This Aloe gel by Forever Living Products (well over 84% gel and is the first ingredient in INCI) helped me to define the rough, giving the volume in the right place. I use it especially in the winter as it helps the hair to dry faster, protecting them from the heat of the dryer. It 'also ideal to use in place of gels or foams as the property is very good and does not leave the typical greasy and sticky for these products.
LUXURY ARGAN
From about six months use Argan oil  by Vitalcare, especially for tips, after changing hair color and getting blonde. Talking with my hairdresser, I discovered that many people who have wavy or curly hair do not use this product because they are afraid that the hair will remain greasy. You were wrong! Curly hair, compared to smooth ones, are most in need of nourishment in order to untangle and to remove the frizz. Other types of oil suitable for the hair are also those of flax and coconut.
And what are the products for your hair care that you can not say no?
MARTA